Sue Greenhagen stood on the grave of Luther Harris Hiscock, her left foot planted firmly on the headstone dedicated there just over 150 years ago. Summer was fading into autumn and the threat of drizzle hung in the air—perfect cemetery weather. Outfitted in a forest green fleece pullover, navy slacks, and a pair of well-worn white New Balance sneakers, Greenhagen was nearing the end of her tour of Oakwood Cemetery, the second-oldest in Syracuse. She led my magazine writing class through the property, teaching us a few history lessons while we attempted to capture her every move using notebooks and smartphones.

Greenhagen, with a bob of white hair pushed behind her ears and eyes peeking out behind a pair of wire-rim glasses, looked every bit the historian. She has master's degrees in history and library science and now spends her time volunteering as a tour guide at Oakwood. "This history is my life," Greenhagen said. "When I find out something, I usually have to call up somebody. 'Hey, guess what I found!'" Using Hiscock's headstone as support, she recounted the tale of his death. He was murdered in 1867 by George W. Cole, who accused the man of sleeping with Mrs. Cole. Hiscock, she explained while perched six feet above his mortal remains, is one of her least favorite people in the cemetery.

She had a penchant for using terms like "nutcases" and "jokesters" to describe the residents of Oakwood, and she seemed to know some sordid detail about each of the 60,000 people interred in the 160-acre cemetery. So when she stopped at a grave on her hour-long tour of the cemetery that she's been giving for over a decade—dubbed "Live Oaks & Dead Folks—we listened.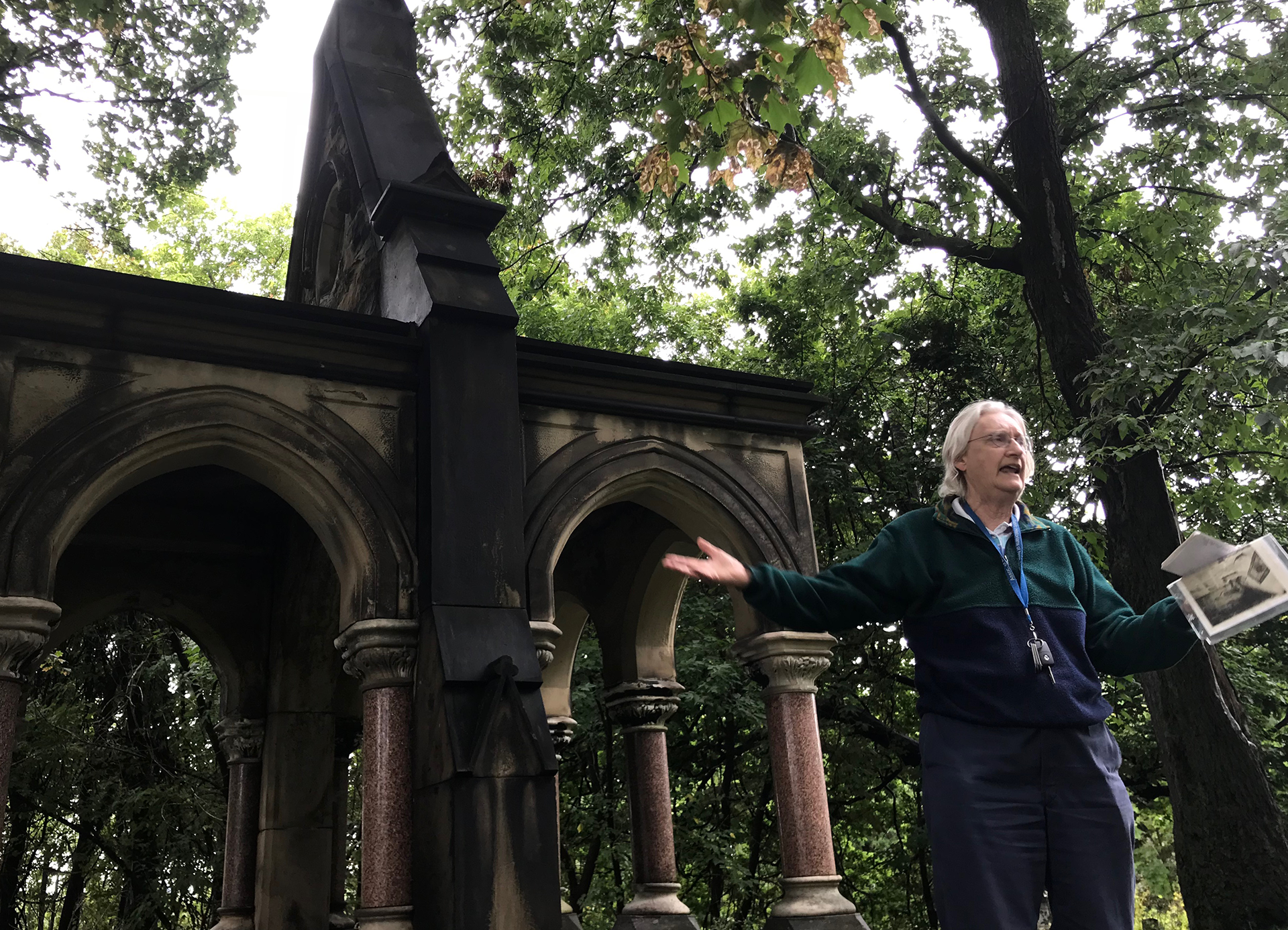 Founded in 1859, Oakwood Cemetery was designed as a respite from urban life, which was bustling nearby. Syracuse underwent a period of dramatic growth in the 1850s, and the stress of urbanization pushed city dwellers to the pastoral Oakwood. The property was an immediate success, and an omnibus was soon established to drop thousands of visitors at the cemetery gates. Although Oakwood predates Syracuse University by over a decade, the two have grown together and now meet on the cemetery's north side. The two institutions, Greenhagen noted, share a vexed relationship. Students constantly visit the grounds as a place to climb trees, study, and relax, but they've also been a nuisance. The toppled statuary and decaying monuments around us, Greenhagen said, were at least partially the work of bored coeds looking for entertainment.
The years haven't been kind to Oakwood. It was impossible to ignore the constant droning of passing cars from I-81, which is visible along the tour route. Once-ornate sculptures and mausoleums have been worn down by time and vandalism, now missing heads, wings, and legible names. Candy-colored graffiti covers stately chapels and mausoleums. In Dedication Valley, the oldest part of the cemetery, a massive pyramid rises from the hillside, slowly being torn apart by vegetation growing between its stones. Someday, one of the weeds will grow into a tree and split the pyramid from within.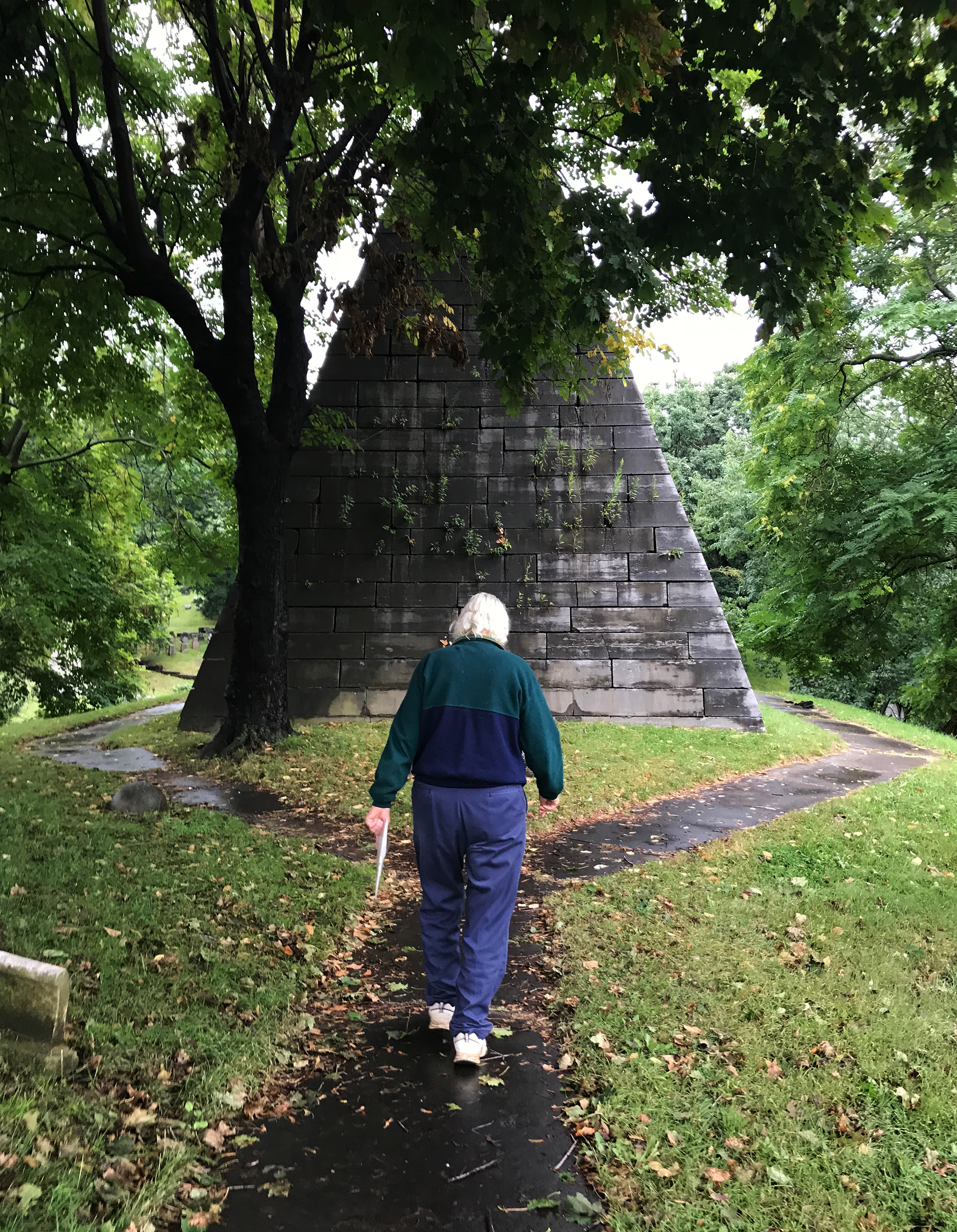 In Greenhagen's Oakwood, the residents are elite and extraordinary. Some people, like abolitionist Amos Granger and philanthropist Margaret Slocum Sage, are included in the tour for their great achievements. Others have more bizarre histories, like Henry Denison, who tried to make some extra money in the mid-1800s. "He decided to get into a little side line. He became a resurrectionist," Greenhagen said before asking us if we knew what that meant. We looked back in silence, dumbfounded. "A body snatcher! A graverobber!" she exploded, arms waving for emphasis.
As we came to the final stop on the tour, the grave of Amos Westcott, patriarch of the Westcott family and one-time mayor of Syracuse, Greenhagen detailed the fabled family curse. Each member, she said with macabre delight, had died early; some by suicide, others by illness. She warned us that we would catch the curse if we stepped too close to the family plot—a bit morbid, maybe, but even cemetery tour guides need to crack a joke sometimes.
The highlight of the tour, despite her best efforts to convince us otherwise, was Sue Greenhagen. Her tours do more for the dead than the enormous monuments that litter Dedication Valley. Greenhagen, using nothing more than a well-researched monologue and a ring of index cards, conjured the long-dead people beneath our feet.
Pointing out a towering, light gray obelisk jutting out of a grassy hill, Greenhagen explained that the man it memorializes made his fortune through extortion, just another of her endless anecdotes about the past. "It's stories like that, just walking by, you'd never know," Greenhagen said. "Not everybody's famous, but everybody's got a story. How many times do I say that?"