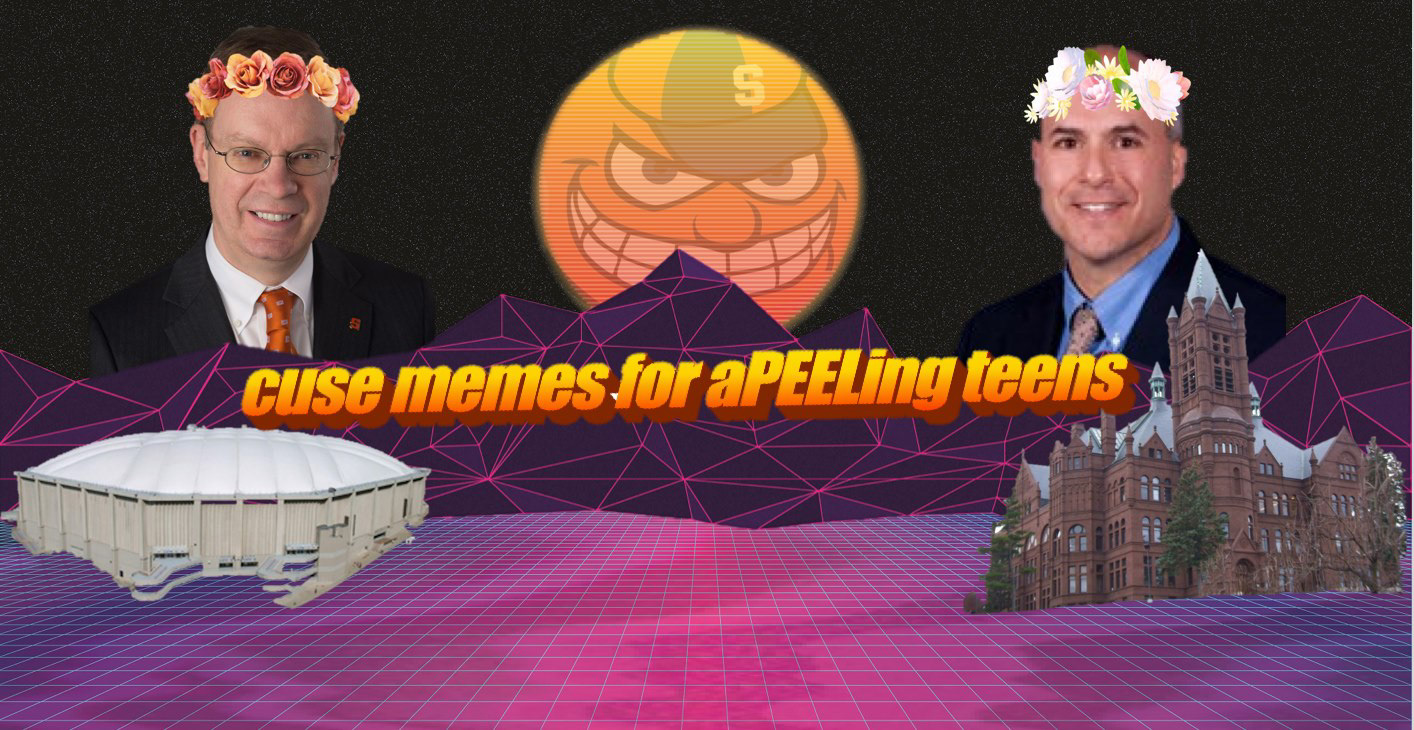 The first sign that something had gone terribly wrong was a grainy picture of a car with the words "BEEP BEEP new sheriff" written across it.
To the shock of its members and administrators, Syracuse University's Facebook meme group had undergone a coup by a woman named Amy Ox, who seized control from its founder, Emilia Smart-Denson, last October. The picture of the car — a coupe — was Ox's way of introducing her new reign. Perhaps the worst part of the takeover was that she orchestrated it remotely — she doesn't even attend SU.
Undeterred, Smart-Denson and her partner Brianna Stankiewicz, both sophomores, created a new Syracuse meme group the very next day, spawning a short turf war that left their new group the victor. That group, called "cuse memes for aPEELing teens," now boasts over 2,000 members and counting.
Similar Facebook meme groups are changing the ways students communicate with each other on campuses across the country. Pearson reported in 2015 that nine out of ten college students use laptops, and that nearly as many own smartphones. Syracuse students, who spend much of their day staring at screens, now use Facebook to connect with friends. Enter "cuse memes for aPEELing teens," which Smart-Denson described as "a Facebook group where Syracuse students — or non-Syracuse students — can post jokes that are relevant to Syracuse."
College meme groups haven't stopped growing since the trend was ushered in by "UC Berkeley Memes for Edgy Teens" in 2016, which now has over 145,000 members, even though enrollment is just under 42,000 students. Copycat groups spawned at other universities, notably at Penn, Columbia, USC, and Harvard.
Syracuse gained its own meme group when a chain email about parking passes devolved into chaos last summer. "People started making events off of that to remind themselves to get parking permits, but inviting the entire Listserv," said Smart-Denson. Dozens of emails bombarded every Syracuse student, and people soon started emailing the entire chain to get people to stop replying, but the emails kept coming, adding fuel to the digital fire.
Smart-Denson, Stankiewicz and their other friends in the drama department were spurred into action by the debacle. "This is it. We need to be able to respond to this," Smart-Denson recalled thinking.
Though they might look odd from the outside, meme pages occupy an important space for college students. This page's humor is tailored to SU students, so the bar for entry is just an understanding of school tropes, making the humor accessible to everyone. Some of the most popular topics? Stankiewicz and Smart-Denson agree: the promenade; Pete Sala, who sends beloved construction update emails; Chancellor Kent Syverud and Otto the Orange.
Sophomore Daniel Preciado has found a new community on the page. "It's a space in which all these people who love this school can take it not as seriously," Preciado said. "It's nice to have a space where everyone shares those weird jokes."
Annabeth Mann, another sophomore, joined the group because she wanted a good laugh. "I think that people really come together to rejoice at these memes because they're so funny," Mann said. She feels the group isn't just a place for jokes, though. "I see a community evolving from the meme page."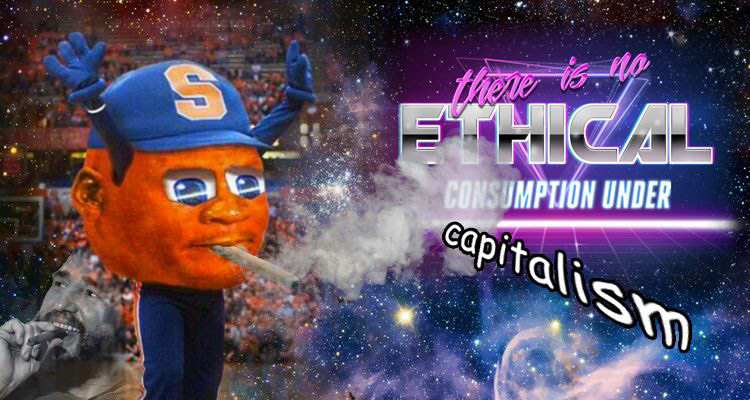 Smart-Denson and Stankiewicz, as unassuming as they sound when they talk about the group, work hard to keep things running. As the group's administrators, they let in new members, review posts and produce content, all on top of their schoolwork. "I have notifications whenever anybody posts in the meme group just because I can go and check and make sure it's good content," said Stankiewicz.
Meme culture can be notoriously offensive, which poses a risk for groups trying to stay positive. Sites like Reddit and 4chan, for example, host communities centered on racist and crude content. SU's page has encountered this a few times.
"The very first day of the old group, when we first made it, a couple of people posted these really racist memes, and they weren't even Syracuse related," Smart-Denson said. They took them down immediately. Another post tried to connect Otto the Orange to the Jonestown Massacre, which the pair also decided to delete.
The group isn't quite as active as its creators would like. Recently, activity has been limited to between one and four posts per day. Smart-Denson and Stankiewicz feel a bit of pressure to produce as much material as they can.
"I like to consider myself an Internet comedian. I feel like it's a weird breed [where] people don't know me performing, but they know my memes," said Stankiewicz. "It's better to make a stupid meme and release it into the wild and see what catches fire."
Across the board, no college meme page has been able to effectively monetize their content. Smart-Denson and Stankiewicz attempted to make money off of the group once by selling merch branded with their memes, but they never sold anything. Smart-Denson thinks it's for the best, though. "If it becomes about us making money or us getting something out of it, it becomes a different kind of environment."
The pair is convinced of the power of memes to create a community, and the way they speak elevates them to a profound level. Smart-Denson highlighted one that combines two images of the rapper Drake with Tide Pods and with Syracuse Food Services, which is interpreted as Drake choosing to eat laundry detergent over going to the dining hall.
"That's so many levels to get there — to have two images of Drake and understand that one of them is good and one of them is bad, and that somehow that Tide Pods are good, and comparing that to Food Services," Smart-Denson said, demonstrating the awkward beauty of shared cultural references.
Memes might be considered a joke elsewhere, but at Syracuse, they've created an online community that's showing no sign of slowing down.